Making the decision to run a marathon can be quite a lonely journey. Once you've committed to the task, there are going to be many hours of training involved and for most of us that means running alone.
And while that's fine – I actually find running alone a great way to clear my head and get some peace in this otherwise hectic city – sometimes you need additional motivation in the form of running buddies.
Convincing your best mate or significant other to run the marathon with you is likely going to be tough. Instead, consider joining one of New York's many running groups and training programs. The great thing about these groups is that you don't necessarily even need to be training for anything. They can simply be a social running network for people of all levels and abilities.
Here are a few you may want to consider checking out:
The Dashing Whippets
According to their website, the Dashing Whippets running team is founded on, and driven by, diversity with team members from all over the world all with greatly different running goals. Perfect for beginners, there is a $30 annual membership fee, but first-timers can take advantage of a 90-day free trial. Because of the variation in runner abilities, the Whippets offer two or more training plans concurrently throughout the year, led by qualified coaches. They offer specific marathon plans, as well as short distance plans such as 5km and 15 km. Better yet, they meet all over New York. If you're looking for a friendly and no judgement running community, this could be a great place to start.
November Project New York
If a party atmosphere is more your style, then consider the November Project's New York chapter. With an emphasis on fun and social, they offer runs every Monday, Wednesday and Friday. Their instructions are simple: just show up. This group is not afraid of a themed workout so prepare for some silliness to arise.
Jack Rabbit marathon running group
Specifically designed for the New York Marathon, sports apparel store Jack Rabbit offers a training group in Central Park and another in Prospect Park. Training is twice a week with a qualified coach for 15 weeks. At $345 it's not going to work for someone unsure whether they're up for the commitment, but signing up does get you a 15% discount off items in Jack Rabbit stores for the duration of the program. That way you can look the part too. Full details here and early bird discount until June 14.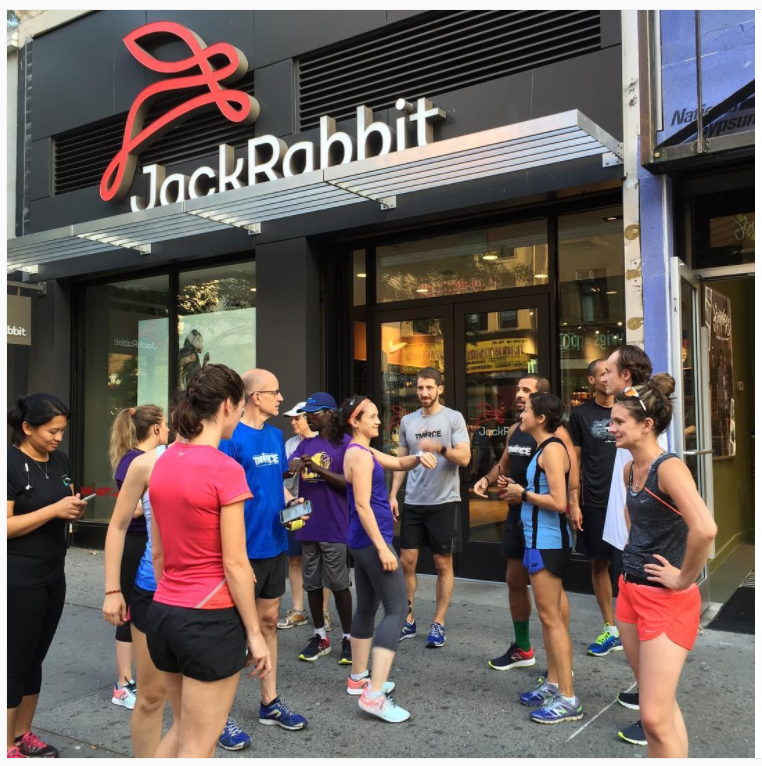 NYRR Virtual training program
Looking for some structure and motivation, but not sure about joining a group? New York Road Runners (NYRR) – the organization that stages the NYC Marathon – offers a bespoke online training program for the marathon and a number of other distances. I used this for my first marathon and found it to be extremely helpful. Unlike many other online programs, the NYRR programs lets you select how many days a week you'd like to train, which day(s) you want to rest, and several other csutomizeable goals. The 20, 16 or 12-week programs then adjust based on the information you input. There is a cost, starting at $49.99, which gives you the ability to contact the training staff if you have questions. You can upgrade to the e-coach version, which gives your complete access to a trainer who can help with queries about injuries, diet and other training matters. This won't provide you with any new friends, but just might get you over that finish line in one piece!
You are not alone
New York is actually home to more than 200 running groups, so this list is by no means exhaustive. For a more complete picture of clubs and groups to meet your needs and in a convenient location, check out the NYRR website or visit MeetUps comprehensive list of groups.
Happy running! Let me know which running groups and training programs you've found helpful.